sonic parkour



Parkour (l'art du déplacement), is an urban discipline emerged in the late 70s, vindicating a reappropriation of the urban space through the body, reinterpreting the city and creating other ways to feel and enjoy it.In appropriatting this concept, Mig Seoane and madamme cell started to shape this project in 2007, although it had spontaneously begun many years before in his mind.

The purpose of this art is to explore all possible paths related with the aural culture, the phenomenon of the sound, the public space and the community participation. Thus, the Parkour of Sound is made from one or more drifts around the city, listening to its sounds, its music, so often ignored by people drawn in daily routine or marginated as noise or interferences.

In our Parkour we find all sorts of resounding situations to play with, intervening and creating sound stories (music) from those situations trought 3 diferents formats: video-performancse, video-opera and audiovisual concerts.



NACHO MUÑOZ aka madamme cell (prepared piano and voice)

Nacho Muñoz aka madamme cell (Vigo.Spain) is a pianist, electronic musician and composer.

His research focus on opera, performance, piano solo music, experimental electronics and street sound art. His work was published in Alg-a Label (Gz), Crónica Electronica (Pt), Xylem Records (Uk), Modisti (ES) or Haze (Gr), and had playing in stages along Europe, Africa and Latin America.

He was founder of the art community and netlabel Alg-a, the Orchestra of Spontaneous Music Omega and was director of the international artistic residences center Alg-a Lab in Vigo. Madamme Cell has collaborated with Lawrence Casserley, Rui Costa, Manuela Barile, Noel Taylor, London Improvisers Orchestra LIO, Mig Seoane, Angel Faraldo or Carlos Suárez amongst others.

Actually plays electronics on the free rock band IgMig and develope the Sonic Parkour Project on differents places and cities in Europe.He currently lives in Spain and works between Spain and London.

www.madammecell.bandcamp.com
www.madammecell.com
@madammecell



ROI FERNÁNDEZ aka SR PAUSE (live cinema)

Roi Fernandez (A Coruna, Spain) is a filmmaker, media artist and freelance illustrator.

He has a degree in Fine Arts, (Vigo University, Spain) , MFA in Film Directing (City College of New York, US), MFA in Interactive Systems (Ramon Llull Uni., Barcelona, Spain), 1 year program in Media and Film (KHM, Cologne, Germany), and 4 year studies in Acting and
Performing Arts (ESAD, Vigo, Spain).

He has developed an intense career in Performing Arts (he directs a transmedia theatre company, ArtesaCia ), film (award-winning short films), live Cinema, animation (with award-winning music videos), motion graphics (Spanish tv channels), commercials and set design for theatre.

Roi tends to mix film narratives with new transmedia languages, such us Inmersive Video
360o (VR), Live Cinema and transmedia stage projects.

He has used his drawing skills to illustrate books for children, commercial illustration, fashion design illustration, story-boards and graphic novels. As a filmmaker he tries to embed a poetic vision in his films. He has directed several short
films, which have played and collected awards in festivals around the world (Spain, US, Greece, Italy, Argentina, Czech Republic, UK etc...)
He currently lives in Spain and works between Spain and New York.

www.srpause.com
www.artesacia.com
https://vimeo.com/roifernandez



Powered by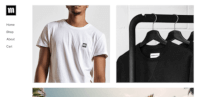 Create your own unique website with customizable templates.